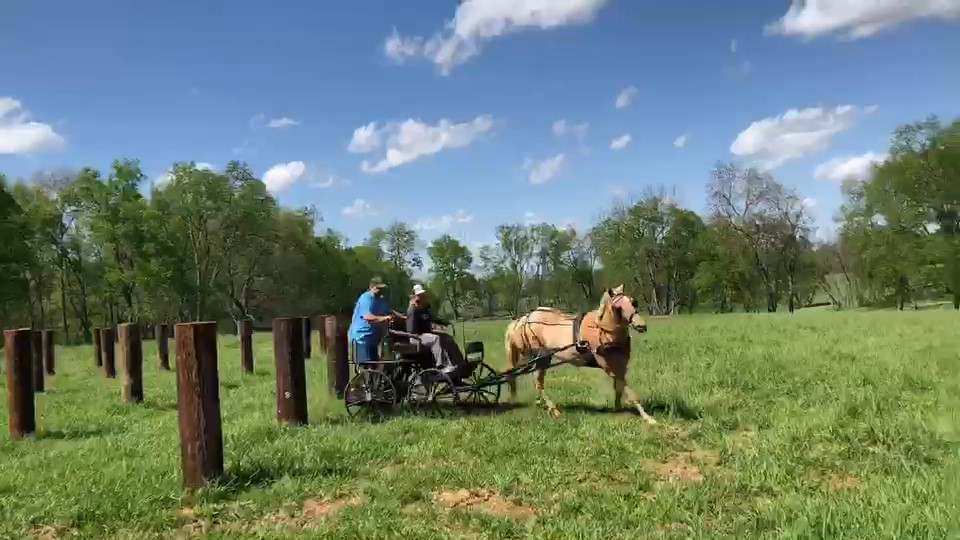 HORSE TRAINING FACILITY
Valkyrie's Haven is a horse training facility located in Paris, Kentucky, just outside of Lexington and near the Kentucky Horse Park. Valkyrie's Haven is a full care horse facility offering various boarding and training options. Our goal is to provide individualized care tailored to meet the needs of you and your horse. With a top-quality facility and over 150 acres devoted to horse use, we can accommodate a variety of disciplines and training needs. Whether you are a serious competitor looking for a training barn or a person that just loves horses, Valkyrie's Haven has it all. We offer haul-in training for one or two day stays or regular membership access. Our farm is easily accessed from a main road in Paris, Kentucky. We can accommodate large vehicles and trailers.
If you need assistance in finding a driving trainer, please contact us for information about local trainers that may match your needs. We welcome trainers to use our facilities to give lessons or clinics. Valkyrie's Haven can accommodate your training needs, offering use of these facilities, accordingly. At Valkyrie's Haven you have the freedom to ride the trails, pamper your pony, or relax and enjoy the beautiful scenery of the Bluegrass. Valkyrie's Haven strives to make the most of everything the great outdoors has to offer.
We are open to any discipline, any breed and any experience level. We are a multi-disciplined facility offering venues for those interested in Driving, Riding, Conditioning and Basic Horsemanship. We have a large outdoor arena, open fields, trails and grassy pastures. We have a full-size grass dressage arena, as well as a cones course for drivers. We offer competitive driving obstacles accommodating skill levels from training to advanced. Our spacious indoor arena measures 100' x 200' and contains a footing mix suitable for either riding or driving. We have a 60' round pen with 6' high panels available for groundwork, lunging or riding. Valkyrie's Haven is truly a safe and healthy environment in which horses may thrive.
Valkyrie's Haven features multiple, well-ventilated barns with spacious stalls, tall ceilings, matted floors and individual windows for each horse. We can accommodate your horse for stop over or weekend training. Some of the stalls also have individual walk outs. Barn aisles are wide and have good footing. Barns are well ventilated with up-to-date lighting and electricity at each stall. We offer boarding in a variety of ways: short term or temporary boarding, stopovers and layovers. Long-term boarding may also be available.
One night or several nights, Valkyrie's Haven can accommodate you and your horse with comfortable space and pampered care. Don't want to be separated from your horse? Valkyrie's Haven runs an AirBnB with accommodations for you as well as your horse. Accommodations at Valkyrie's Haven include rooms in the main house or a barn apartment, with private access and guest parking. We are handicapped accessible and have a room accommodation for that as well. We offer the use of our pool in season and welcome you to relax in the courtyard. A full guest kitchen and common room are available for your use. We are also dog friendly and it's a short walk or drive down to the barn if your horse is staying as well.
You'll be very satisfied if you choose the horse training facilities at Valkyrie's Haven for your horse. We would love to have you and your horse as our guests at Valkyrie's Haven. For more information, get in touch with us at info@valkyrieshaven.com or (847) 602-7500.