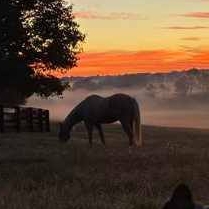 HORSE OVERNIGHT STAY
Traveling through Lexington, Kentucky, with your horse and need to take a rest? Traveling with horses can be extremely stressful and exhausting. Take time to calm your nerves and rejuvenate knowing your horse is doing the same. Valkyrie's Haven horse overnight stay allows both driver and horse to recharge their batteries for their next leg of the trip. Valkyrie's Haven offers equine boarding in a variety of ways: short-term or temporary boarding, stopovers and layups. No one can take care of your horse the way you can. At Valkyrie's Haven, both you and your horse, stay on the same property. You can sleep soundly knowing your horse is close by even when you are far from home.
Traveling overnight and need a place to keep your horse? Valkyrie's Haven is located in Paris, Kentucky, only a stone's throw to Lexington. Whether you are traveling north to south or east to west, Lexington is a great location no matter where your travels take you. At Valkyrie's Haven your horse's overnight stay will include a large, roomy and comfortable stall to allow your horse to lie down and stretch its legs. On site, live-in barn manager keeps an eye on the horses. Depending on your length of stay, your horse can even enjoy Valkyrie's Haven's numerous pastures either by themselves or with a couple of new friends.
Horses need bed and breakfasts too. Travelers are mostly motivated to book Airbnb accommodation because of its personal touch, convenient location and household amenities. You can think of Valkyrie's Haven as a horse's Airbnb. Budget friendly, Valkyrie's Haven is located near Lexington, Kentucky on a main road with easy access for even the largest trucks and trailers. We offer flexible arrival and departure times and easy parking for your rig. Valkyrie's Haven is the place to allow your horse to have the comforts of home while on the road. Lastly, with its roomy, ventilated stalls to its large pastures to its dry lots and very large indoor arena; Valkyrie's Haven has all the "horsehold" amenities.
Accommodations for people at Valkyrie's Haven include rooms in the main house, with access through a separate, handicapped accessible guest entrance and separate guest parking. We offer the use of our pool in season and welcome you to relax in the courtyard. A full guest kitchen and common room are available for your use. We are dog friendly and it's a short walk or drive to the barns.

You'll be very satisfied if you choose Valkyrie's Haven for your horse boarding needs. We would love to have you and your horse as our guests at Valkyrie's Haven. Experience the best boarding stables in Central Kentucky. For more information, get in touch with us at info@valkyrieshaven.com or (847) 602-7500.