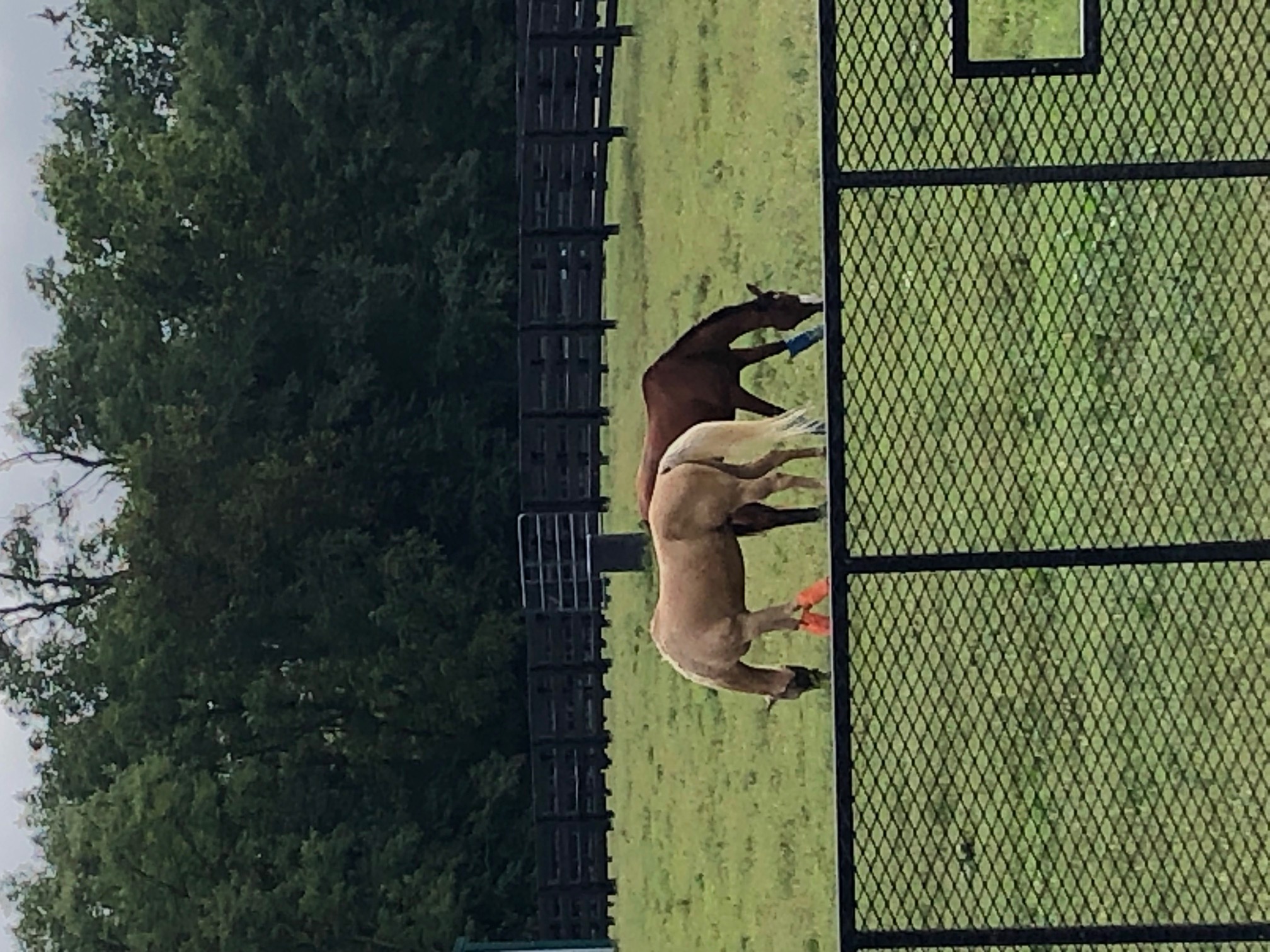 HORSE LAYOVER
If you're planning on traveling with your horse and you are coming to Lexington, you can have real peace of mind when you plan your horse layover at Valkyrie's Haven, conveniently located in Paris, Kentucky, just outside Lexington. One night or several nights, Valkyrie's Haven can accommodate your horse with a spacious stall, turnout and managed care. Don't want to be separated from your horse? Valkyrie's Haven offers excellent accommodations for not only your horse, but also for you. Trailers may be left at Valkyrie's Haven for the duration of the stay.
Valkyrie's Haven has spacious barns and many turnout options for your horse. Our barns feature spacious stalls, tall ceilings, matted floors and individual windows for each horse. Some of the stalls also have individual walk-outs. Barn aisles are wide and have good footing. Barns are well ventilated with up-to-date lighting and electricity in each stall. Our fenced turnouts have plentiful grass located near the barns. Our spacious indoor arena measures 100' x 200' and contains a footing mix suitable for either riding or driving.
People accommodations at Valkyrie's Haven include rooms in the main house, with access through a separate, handicapped accessible guest entrance and separate guest parking. We offer the use of our pool in season and welcome you to relax in the courtyard. A full guest kitchen and common room are available for your use. We are dog friendly and it's a short walk or drive down to the barn if your horse is staying here as well.
The following accommodations are available:
Large climate-controlled room with king-size bed, work area desk, TV, Wi-Fi and in-suite bathroom with large walk-in shower. Dog friendly, this room has its own private balcony through sliding glass doors, so you can sit outside or take your pet out through the gate.
Two full-size beds with TV, Wi-Fi, extended vanity sink area and in-suite bathroom with large walk-in shower.
KING SIZE BED OR 2 TWIN XL BEDS
With lots of floor space, this climate-controlled room can be converted from a king bed to two twin XL beds on request. Handicapped accessible with 36" doors and no threshold bumps, oversized shower and floor space. Room has TV and Wi-Fi. Large shower has no threshold and can accommodate a chair or roll in.
We also have a unique, recently remodeled barn apartment that can hold up to 4 people. This apartment features a full kitchen with dine-in seating, a main bedroom with queen bed, an attached bedroom with twin over full bunk beds and a newly built bathroom. This barn apartment has new heating/cooling mini-split system, outdoor seating and grill.
This wood cabin bunk house is perfect for layovers. The cabin has full over full bunk beds, clothing armoire, mini fridge, microwave, coffee maker, dishes and bistro seating. It also has a heating unit and window A/C. Bunk house does not have running water but utilizes the new bathroom/shower/laundry facility about 200 feet away in the main barn
In addition, we are currently able to accommodate modified hook up for electric and water – with nearby barn bathroom and showers available for convenient use.
When looking for an easily accessible horse layover in the greater Lexington area, you'll be very satisfied if you choose Valkyrie's Haven. We would love to have your horse and you as our guests at Valkyrie's Haven. For more information, get in touch with us at info@valkyrieshaven.com or (847) 602-7500.