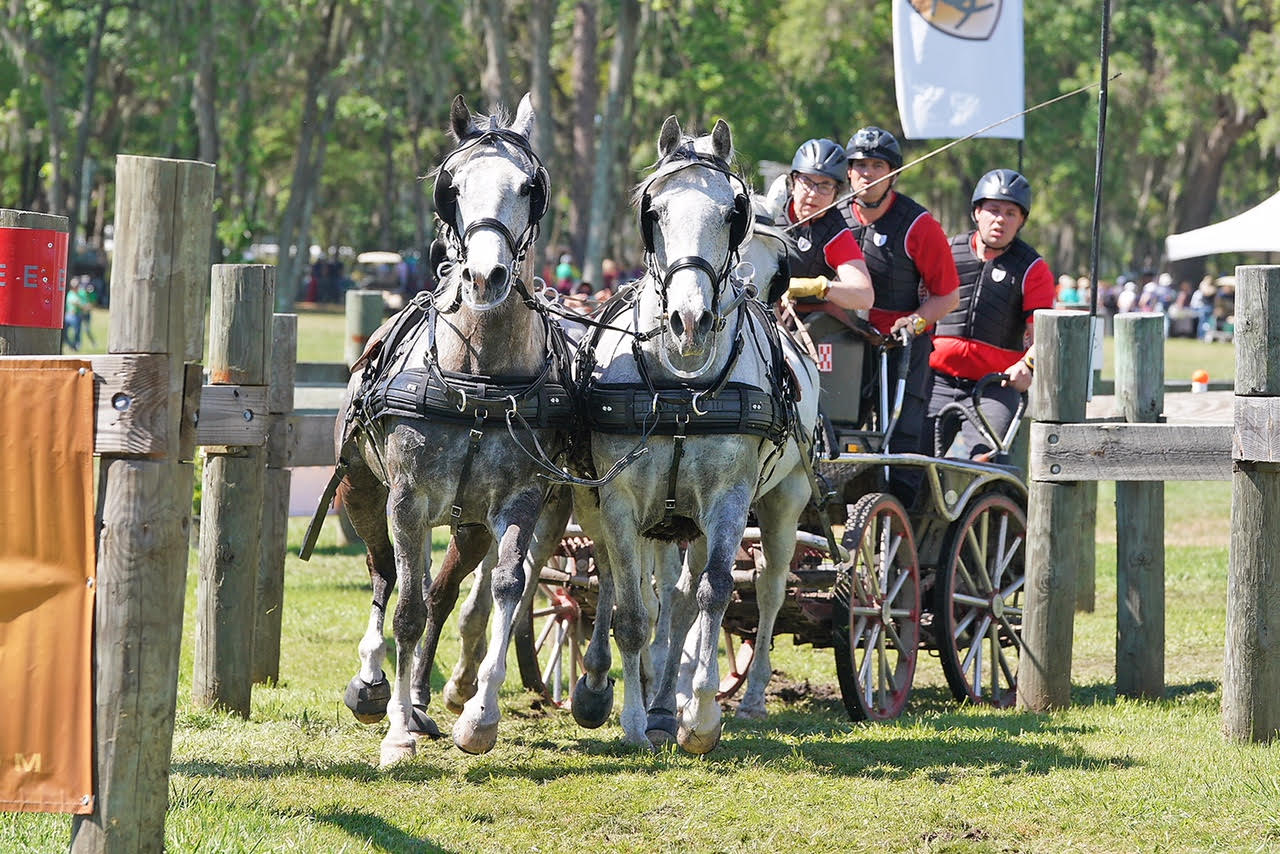 COMBINED DRIVING
Valkyrie's Haven offers Combined Driving training for one day or with membership access. Trainers wanting to use our facilities are welcome with their students. Near the world-famous Kentucky Horse Park, Valykrie's Haven is conveniently located in Paris, Kentucky. We have paved and graveled drives and turnaround which accommodates large vehicles and trailers.
Valkyrie's Haven features obstacles, practice cone courses and a dressage arena for Combined Driving. Our dressage arena is 40 x 100 meters in size. Our spacious indoor arena measures 100' x 200' and it contains a footing mix suitable for either riding or driving. Multiple turnouts or mounted riders can train in this space at the same time. Additionally, we have 150 acres of gently rolling and flat driving and riding property. Trails are mowed and safe to drive and ride at any level of experience.
Valkyrie's Haven is host to local driving events held by the Spokes and Spurs Club of the area. The club is a big supporter of equine driving. Valkyrie's Haven offers clinics periodically during the year. Clinicians wishing to schedule use of the facility for their clinic are welcome. If you are looking for assistance in finding a driving trainer, please contact us for information about local trainers that may match your needs.
Combined driving is relatively young on the world scene, with the first comprehensive and standardized rules having been laid down in the early 1970s under the leadership of Prince Philip, Duke of Edinburgh. Valkyrie's Haven welcomes trainers to use our facilities to give lessons or clinics. We can accommodate your training needs and offer use of these facilities accordingly. We can accommodate stabling and accommodation on site for multi day clinics or training sessions
Combined Driving is one of eight equine sports governed at the international level by the FEI and at the National Federation level by USEF. Nationwide, the American Driving Society provides for graduated levels of experience: Training, Preliminary, Intermediate and ADS-Advanced levels. The purpose of all ADS competitions is to match the talents of horse and driver combinations against each other under fair and equal conditions. Equines in singles, pairs, tandems, unicorns and four-in-hands may compete in Combined Driving. A Combined Driving Event consists of three competitions: Dressage, Marathon & Obstacle/Cones. Combined Driving is intended to showcase the versatility, training and talents of both horse and driver.
We would love to have you and your horse as our guests for Combined Driving at Valkyrie's Haven. For more information, get in touch with us at info@valkyrieshaven.com or (847) 602-7500.