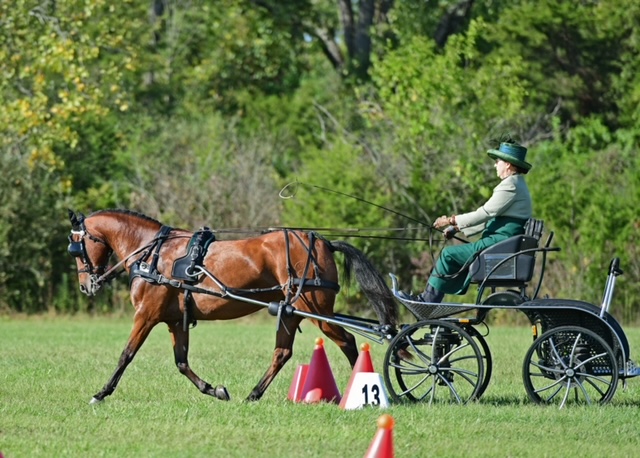 Do you have a love of horses and an interest in expanding your skills and knowledge of equestrian sports? If so, carriage driving might be for you. At Valkyrie's Haven, we believe that carriage driving is a fantastic way to expand your relationship with your equine. Carriage driving can be enjoyed with single or multiple horses, ponies or VSEs and often allows horse lovers to extend their years of actively working horses for pleasure or competition.
Valkyrie's Haven offers a specialized opportunity for training and education of the horse and driver. Our main goals are instilling safety, proficiency and the competitive edge with our clients. Our facility offers a training venue for carriage or combined driving, as well as events and clinics. For the competitive driving enthusiast, we can assist you in finding a trainer that fits your needs and provide the facilities to take lessons, practice in our arena, on our cones course or drive our cross country marathon obstacle course.
Valkyrie's Haven is a privately owned combined driving facility. Located near the Kentucky Horse Park, Valkyrie's Haven offers training facilities focused on equine driving and conditioning. We provide a family, friendly culture environment, where everyone looks out for one another. Over 150 acres with groomed trails and driving obstacles offer conditioning and skill challenges from novice training to advanced. Conveniently located in Paris, Kentucky, Valkyrie's Haven is close to several competitive venues in the greater Lexington area.
Our training facilities at Valkyrie's Haven are focused on equine driving, riding and conditioning. Valkyrie's Haven has a large arena, open fields, trails and grassy pastures. We maintain driving paths throughout the farm for use year around. We offer a cones course for practice to develop agility and skills for any carriage driver building skills with their equine. We have full scale obstacles suitable for drivers from novice training to advanced. Our facility is here to support development and fun for you and your equine.
Valkyrie's Haven features multiple, well-ventilated barns with spacious stalls, tall ceilings, matted floors and individual windows for each horse. Some of the stalls also have individual walkouts. Barn aisles are wide and have good footing. Valkyrie's Haven is a relaxed, fun and friendly farm providing quality care for your horse. We are open to multi discipline, any breed, and any experience level. Valkyrie's Haven has fenced turnouts located near both barns. We have a large outdoor dressage arena, open fields, trails and grassy pastures. Our spacious indoor arena measures 100' x 200' and contains a footing mix suitable for either riding or driving. It's truly a safe and healthy environment in which horses will thrive.
You'll be very satisfied if you choose Valkyrie's Haven for your carriage driving or training needs. We would love to have you and your horse as our guests at Valkyrie's Haven. Experience for yourself the best horse playground in Central Kentucky. For more information, get in touch with us at info@valkyrieshaven.com or (847) 602-7500.